UNITING.  

HONORING.

 INNOVATING.  

EDUCATING.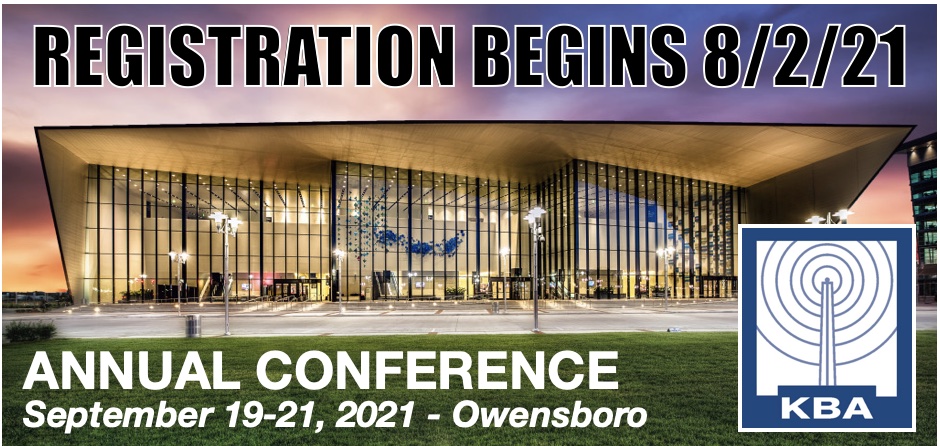 Sunday, September 19, 2021
Broadcasters Cup @ The Pearl Club
Conference Kickoff: BBQ & Bluegrass
Monday, September 20, 2021
Opening Keynote
Professional Development Training

Sales: Sales Essentials with Jeff Schmidt
Management: Bruce Tulgan, Dawnna St. Louis & Legal Panel Discusstion
On-Air/Programming: Mike McVay & Dave "Chachi" Denes (Benztown)

Excellence In Broadcasting Awards @ Bluegrass Hall of Fame & Museum
Awards After Party
Tuesday, September 21, 2021
Professional Development Training
Closing Keynote
Welcome
The Kentucky Broadcasters Association (KBA) unites public and commercial radio and television stations across the Commonwealth of Kentucky.
The purpose of the Kentucky Broadcasters Association is to represent and further the interest of broadcasters, communicate relevant information to broadcasters through meetings and publications, and provide educational services through conventions, workshops, or other appropriate means in order to better serve the public.
WE ARE KENTUCKY'S FIRST INFORMERS
KY BROADCASTERS

SERVE THE CITIZENS, BUSINESSES AND COMMUNITIES IN THE COMMONWEALTH