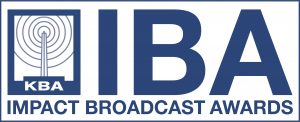 IMPORTANT NOTICE:
Due to several contributing factors, the awards event scheduled for Saturday, April 9th has been postponed. An announcement will be made soon regarding the presentation of the Impact Broadcast Awards.
Entries are now being accepted for the Kentucky Broadcasters Association Impact Broadcast Awards (formerly the Kentucky Associated Press Broadcast Awards). All members of KBA are encouraged to enter their best work from 2021. Rules and entry instructions on the IBAs can be found at the links below. If you have questions please contact Becky Day at becky@kba.org or (209) 552-6541.

Deadline for entries: Monday, February 7, 2022
ONLY ACTIVE MEMBERS OF THE KBA MAY ENTER THE IMPACT BROADCAST AWARDS
For information on how to join, please contact Amber Rhodes at amber@kba.org or by calling (502) 848-0426.